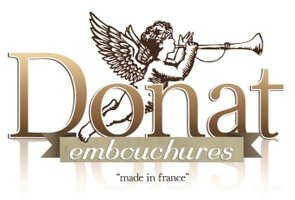 "After playing on the same mouthpiece for many years, the difference was instantly noticeable upon switching to a Donat mouthpiece. After a short adjustment period, I found a greater ease of achieving consistency throughout all ranges of the horn. I am very happy and proud to be playing Donat!" Justin Stanton (Snarky Puppy)
"It's very nice, very well done." Arturo Sandoval
"Donat is a brilliant new fresh voice in mouthpiece design. The attention to detail is astonishing. If clarity and ease of sound is what you're looking for, Donat mouthpieces are your best bet. I'm honored to play his mouthpieces" Russell Gunn
"I had the pleasure of trying mouthpieces that Dimitri Donat had made and I was very pleased with the quality of their sound and playability. I strongly encourage trumpeters to do the same experiment and love these new mouthpieces." Guy Touvron
"The Donat range of mouthpieces is very interesting. They have good intonation, clear attacks, a homogeneous sound throughout the range and are easy to play. A great job by dedicated and meticulous people. Try it!" Nicolas Pardo
"Dimitri Donat changed my daily life as a musician in my approach to the trumpet.
For a trumpet player a change of mouthpiece is a delicate operation. The challenge is to get a round sound on all registers of the instrument while having a precise attack and ease in the high register.
I have played a Schilke 13RCA for 20 years. I was looking for a mouthpiece that would allow me to have the same sound comfort as my initial mouthpiece but with more nervousness, more attack and a good hold of the lips.
Dimitri designed it with ingenuity and success, bravo and thank you, because it is a masterpiece that he has accomplished!" Erik Truffaz
"Donat trombone mouthpieces are incredibly flexible and precise.The whole range is based on the same characteristics with a few different parameters that allow any trombonist to find his or her proper mouthpiece. Congratulations to the Donat brothers for their work, their professionalism and their listening!" Vincent Santagiuliana
"We worked on two mouthpieces for euphonium with Frédéric Donat. Thanks to his talent and with an obvious complicity, we succeeded to create the M57 and M58, two mouthpieces with different profiles that will allow everyone to find his pleasure and his need. Their strengths are their precision, homogeneity, the warm timbre and a great projection; Great job! I am delighted to be a Donat artist and play now exclusively with my M58 Whether in orchestra, soloist or with the Miraphone Tuba Quartet!" Patrick Couttet