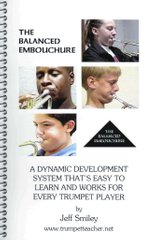 Would you like to play easier? Longer, stronger, with a better sound, more accurate intonation, and a higher range?
Then you've found the right website!
The Balanced Embouchure (BE) is a unique approach to developing the brass player's embouchure, written by the American trumpet pedagogue Jeff Smiley.
BE can be used by everyone, regardless of age or playing level. The exercises are based on universal principles that work for everyone. Even though the method has been optimized for trumpet, the underlying principles apply to all brass instruments.
BE is written as a self-help book, so it's very suitable to work with independently. The back of the book holds a CD with Jeff's students playing the exercises. No professional players, but young kids, 12 - 17 years old, to point out that it requires no extraordinary talent or superpower to be able to play the exercises, which go all the way up to high G.
Are you looking for greater ease of playing and more playing fun? Try BE!